High School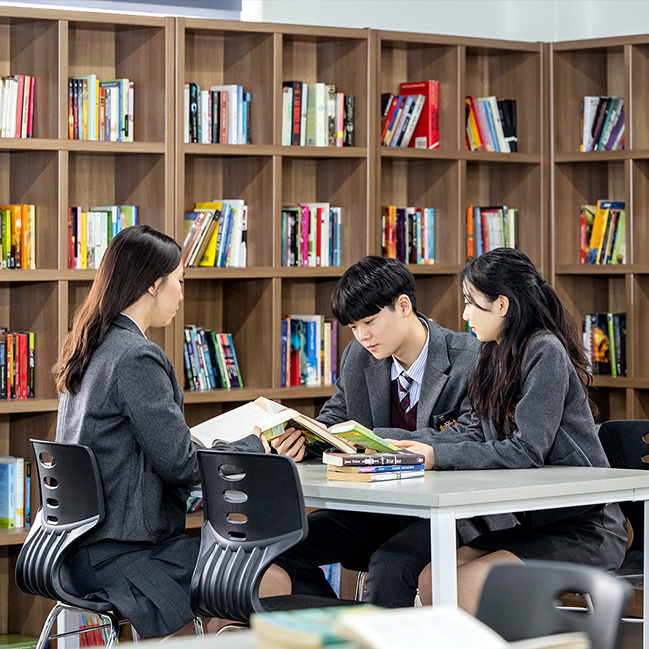 Core Curriculum

Philosophy: Integration
We provide advanced education, better known as the advanced grades. Independent thinking skills, higher level and problem-solving skills are made to prepare students for the rigors of university. Students complete projects in math, science, social studies and take tests of various formats and styles and become lifelong learners.
Enrichment

It is considered for students who undergo cognitive testing outside the school that demonstrates ability beyond their academic achievement and have excellent executive functioning skills. This could be independent study, acceleration of a content-area, or pull-out lessons.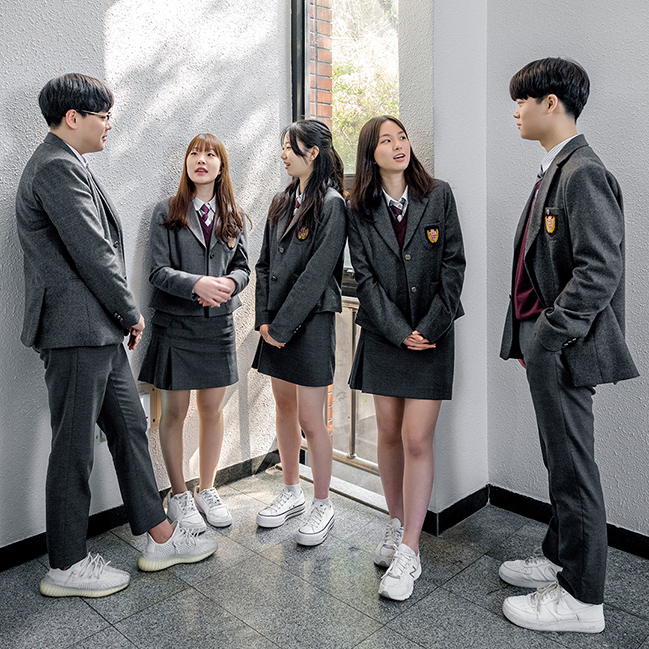 Academic Engagement

An interdisciplinary teaching methodology guarantees students to be very skillful and professional in their subject areas. Our curriculum is based on observing situations, asking questions, predicting possibilities, and collecting information and knowledge to participate in the real world through diversified perspectives. This pluralized approach makes students feel fully ready to be a qualified candidate for their future.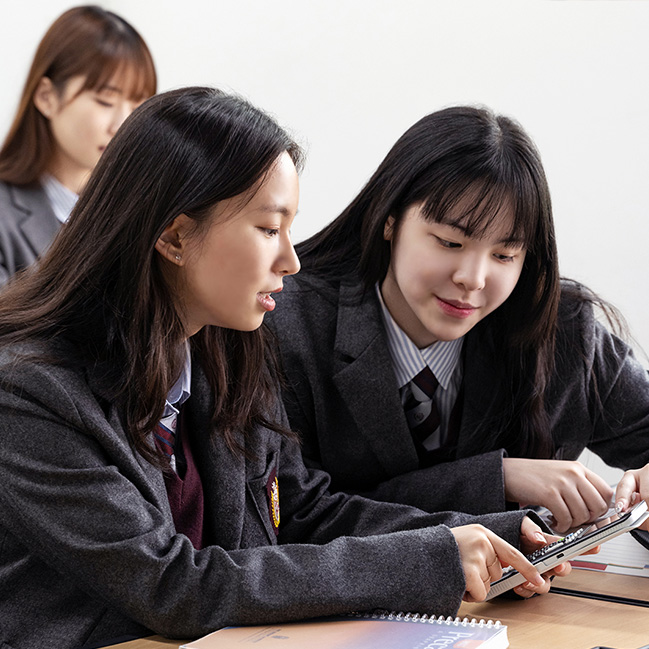 Character Development

Students are always welcoming intellectual risks, asking & answering their very own questions, and expressing their unique thoughts and ideas. We work hard to offer valuable opportunities in order for students to seek a voice and choice of their own accord. Our final goal for students is to make them an able grown-up equipped with skills of conflict management, problem-solving, critical thinking, and self-governance.
Community Focus
SSIB community spirit is a compound of school and local culture. This educational chain plays a key role when students learn their educational ecosystems in and outside the classroom. We build mutual relationships with our school and local partners to impact today's world society and enable students consolidate theories from their learnings and routine daily-life guidance from us into one.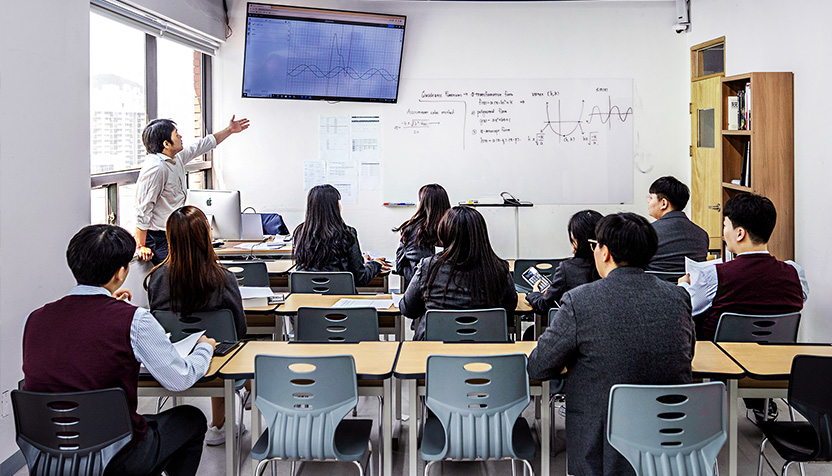 SSI Busan Campus
A High School Classroom
Gun Kim
MS / HS Math Teacher
Instead of emphasizing "How well I did on any evaluated assessment", we encourage our students to navigate through the process of "What can I do to better myself" by rather focusing on what they have gotten wrong in any evaluated assessment.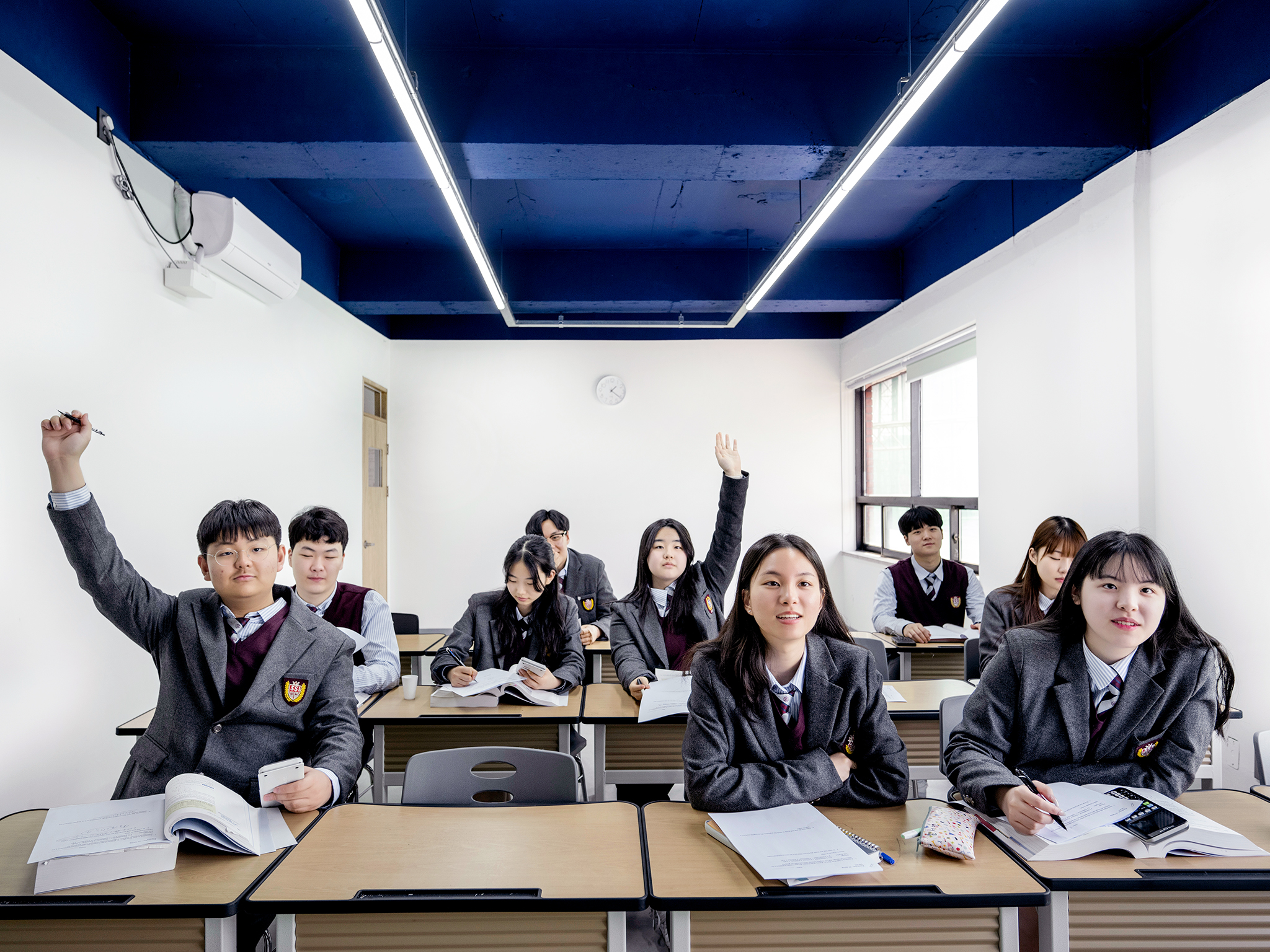 Gun Kim
MS / HS Math Teacher
Instead of emphasizing "How well I did on any evaluated assessment", we encourage our students to navigate through the process of "What can I do to better myself" by rather focusing on what they have gotten wrong in any evaluated assessment.
English


In high school English classes, the emphasis is on improving English proficiency and providing education on literature.Students learn grammar, vocabulary, pronunciation, language usage, reading strategies, and writing skills. Students read and interpret various literary works, enhancing their understanding of literary genres and elements in this course. Additionally, students develop skills in logical writing and presentations, improving their ability to communicate naturally and sophisticatedly in English. Through this course, students lay the foundation for English language skills necessary for college or future careers.

▪︎ English 9
▪︎ English 10
▪︎ English 11
▪︎ English 12
▪︎ Journalism
Math


The mathematics curriculum at SSIBC is designed to establish a solid grounding in both theoretical concepts and practical applications, equipping students with mathematical tools to enhance their critical thinking and problem-solving abilities.These tools encompass computation, problem-solving, logical reasoning, generalization, and abstraction.Upon completion of the program, students will possess a strong grasp of secondary-level mathematics, along with the ability to independently investigate and solve novel problems. Furthermore, they will develop an understanding of the significance of mathematics in contemporary society and be well-prepared for advanced studies in the field at the university level.

▪︎ Geometry
▪︎ Algebra II
▪︎ Pre-Calculus
Social Studies


Students will be exposed to world in depth to prepare them to be informed and engaged citizens in a global society. The world development through various chronological and theoretical perspectives are thoroughly explained to the students. In class, students are given a variety of reading assignments to access world issues through history books, documentaries, news, magazines, etc. Also, students learn to make charts or graphs, visualize and organize events, characteristics of people, and phenomena in the economic system, and argue based on facts.

▪︎ Geography
▪︎ World History
▪︎ US History
Science


The high school course covers various fields of natural science in depth. Students will not just a study to prepare for the test, but students will get to learn how to interpret diagrams and graphs used in practice and activities that require systematic proof and logic development. Within a given subject, students will learn to explore and analyze principles such as characteristics, ideas, research on change, and interaction between living things and the environment so that students can understand the concept on their own rather than focusing on simple repetitive learning and memorization.High school science also emphasizes the importance of scientific literacy, ethical considerations, and the application of scientific knowledge to real-world issues.

▪︎ Biology
▪︎ Chemistry
▪︎ Physics
ART & PE


HS Art
In a fine art course at school, students typically learn advanced techniques in drawing, painting, sculpture, and other art forms.They may study art theory, aesthetics, and art history, as well as engage in conceptual and experimental art practices.Students may also learn about professional practices in the art world, such as art marketing, portfolio development, and art entrepreneurship. Additionally, they may develop critical thinking skills through art critique, self-reflection, and analysis of artworks.
HS PE
Students learn a variety of physical activities, sports, and fitness-related concepts in PE class.This includes fundamental motor skills, sports and games, fitness and conditioning, health and nutrition, personal safety, movement concepts and strategies, cultural and social aspects of physical activity, and personal and social skills.PE classes aim to promote physical fitness, motor skill development, and overall well-being in students.The specific curriculum may vary depending on the school, grade level, and regional guidelines, each student will be encouraged to set personal goals and perform to the best of their ability.
Foreign Language


Foreign Language Spanish
Students will learn Spanish by reading various kinds of texts, including the cultures and customs of Spanish-speaking countries, to broaden their cultural horizons. Students will learn Spanish through listening, speaking, reading, and writing, while also learning the cultural influences and history of Spanish and Latin heritage. Advanced students expand their knowledge and use of vocabulary and sentence structure in both speaking and writing.Through dialogue and participation in situational plays, students learn to use accurate vocabulary and phrases in various contexts.
AP


AP courses offer high school students the chance to engage in college-level coursework. With over 10 courses available at SSIBC, each concluding with a demanding examination, AP provides a pathway for capable and academically-prepared students to acquire college credits and or advanced placement. Enrolling in AP courses also communicates to college admission officers that students have taken the initiative to undertake the most challenging coursework accessible to them.

- AP Literature & Composition
- AP Statistics
- AP Calculus
- AP Biology
- AP Chemistry
- AP Physics
- AP Computer Science
- AP World History
- AP US History
- AP Economics (Micro&Macro)
- AP Psychology
- AP Spanish
Exchange Program


SSI Busan Campus offers an exchange program for current students to the University of Toronto. Students gather from various countries to conduct classes. Classes are divided into by English skills, assign the best dormitory within the University of Toronto so that they can live and attend various activities. Details will be announced later.
Gallery